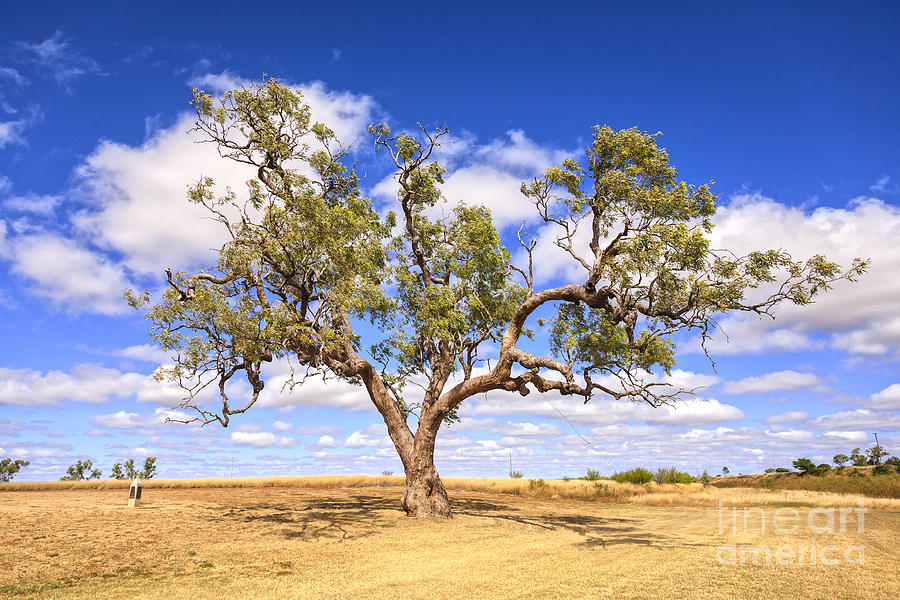 Luke's exhaustion consumed his last blink as he slipped beneath the watery depths of sleep.  His demons however did not retreat, chasing him relentless.  Their footprints forming trails of steam behind him, or were they his.  Gone too quick for anyone to follow, lost so that he never shares his burdens.  He has to rest and the only shade he can see is provided by a shadow with no discernible source.  In his fatigue his senses are dulled and his awareness is clouded, so he fails to realise that he stands under a shadow, cast by no one or from nothing.
Suddenly a girl, no more than 8 years old, appears by his side.  Her face is glowing; she is vibrant, energetic and quizzically turning her head as she stares at him.  She seems confused with Luke's stance. "Why do you stand in the sun, when shade is at hand?" she asks, sweeping her hand in a gentle movement towards a Coolabah tree.  "You look hot, would you like a drink?"
Luke's dried lips crack as he opens mouth.  He has dare not speak for as long as he can remember, out of fear that his lips would dissipate in the wind.  "Where did you come from?" his voice rasps.
She just smiles, and then skips away deeper into the desert.  The shadow pursues her vainly into the darkness of the forgotten.  Luke thinks of yelling out to her again, but raising his hand to hail her is painful enough.  Confused he isn't sure what is real.  The thought however is too hard to contemplate at the moment, so he turns, crunching the barren soils beneath his feet as he drags his feet slowly to the tree.  Where did this tree come from he wonders, but in a land with no landmarks and no recollection of how he got here, there is little time to be concerned with such trivial matters.
He reaches the edge of the shade and mutters to no one in particular "Goodbye" before stepping over the threshold.  He wakes before he feels the cool relief of the shade.  Lying face down in reality, to face the battles of life that refuse to submit even in surreal lands.